---
View All keyboard_arrow_down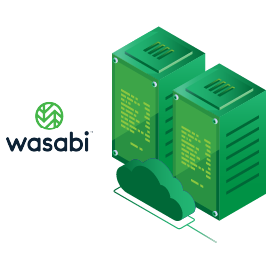 UCXmarket's Wasabi Hot Storage integration allows buyers to deploy storage buckets on-demand from an easy to use interface. This integration allows for S3 compatibility which means we can interface easily with your existing storage and web applications. With 4 cloud regions available and no storage tiers, Wasabi allows you to store unlimited data at a fraction of the standard price.
On-demand
We have automated provisioning with Wasabi Hot Storage to deliver storage buckets as fast as you need them, directly from UCXmarket. No more service requests to the engineering team with a 48-hour turnaround.
Simplicity at its finest
We have developed a simple to use interface that has been coined "the easiest bucket of storage ever created". Don't believe it? Try it out. UCXmarket makes Wasabi Hot Storage provisioning a no brainer for all your storage needs.
Price
80% less than AWS S3
No egress charges
No API request charges
Performance
Faster than the competition
Quick uploads & downloads
Private network options
Protection
Data center redundancy
11x9s data durability
Immutable storage
UCX Trusted Storage
Want to protect the integrity of your data? Utilize UCXmarket's Blockchain-enabled Trusted Storage capability to upgrade your data integrity to the highest standard. Deploy the storage directly through UCXmarket and be in charge of your military-grade encrypted files.
About
Wasabi makes saving data simple, affordable, fast and secure. Wasabi Hot Cloud Storage removes the complicated decision of where, how and whether to save your data, and empowers you to transform your business and organization through cost savings and disruptive speed and performance.
Company Highlights
stars
Performance - Faster than the competition, Quick uploads & downloads, Private network options
stars
Protection - Data center redundancy, 11x9s data durability, Immutable storage
stars
Price - 80% less than AWS S3, No egress charges, No API request charges